Recently added
This screening includes
Boots Riley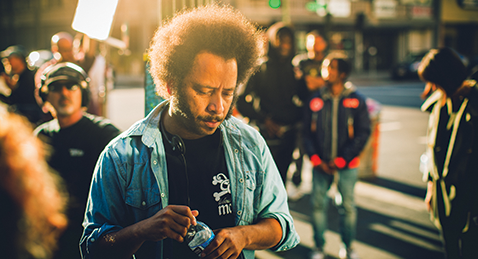 Date and time:

Fri, Oct 26, 2018,

From

7–8:30 pm

Runtime:

1 hr 30 min

Cost:

Free, no ticket required
IU Cinema will recognize a line at 5 pm on Friday, October 26, and seat patrons as space is available. This Jorgensen Guest Filmmaker program will be in the form of an extended, on-stage interview.
IU Cinema will live stream this Jorgensen Guest Filmmaker Program online and into additional rooms in the lower level of the Hamilton Lugar School of Global and International Studies. Once capacity is reached in IU Cinema on the day of the event, staff will be available to direct patrons to the overflow locations.
Patrons interested in watching the live stream will need to register before accessing the live stream feed: Boots Riley Jorgensen Program live stream access.
Series: Boots Riley: Radical Instigator, Jorgensen Guest Filmmaker Series