This screening includes
Rising Tide: The Crossroads Project Live Performance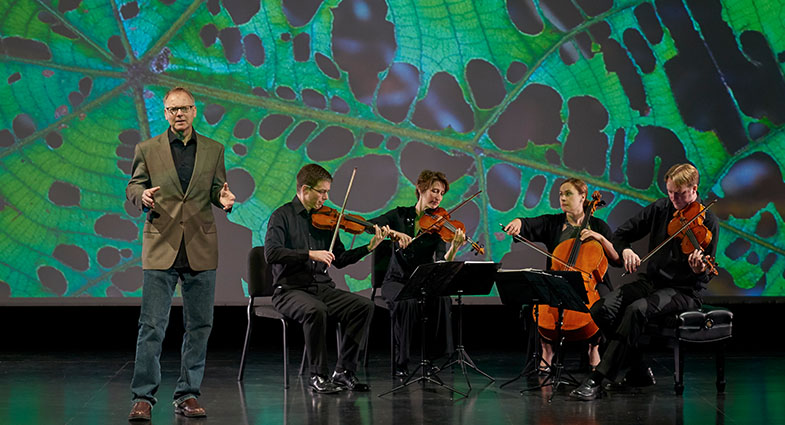 Date and time:

Thurs, Oct 4, 2018,

From

7–8:15 pm

Runtime:

1 hr 15 min

Cost:

Free, but ticketed
Get tickets
Crossroads IUB is a two-day celebration of how the arts and humanities catalyze science in support of environmental sustainability. Crossroads IUB includes an evening performance of "Rising Tide: The Crossroads Project," at the IU Cinema, a special Crossroads First Thursdays festival at the Fine Arts Plaza, and a day-long Symposium with lectures, a workshop, and a panel discussion.
Thursday, Oct. 4: 5–7:30 pm, First Thursdays Festival, Fine Arts Plaza
Thursday, Oct. 4: 7 pm – Rising Tide: Crossroads Live Performance, IU Cinema
Friday, Oct. 5: 8:30 am–3 pm – Crossroads IUB Symposium, Indiana Memorial Union (lunch provided)
The two-day event kicks off with the First Thursdays Festival (including special Crossroads-themed activities and guests), leading up to the Rising Tide: Crossroads Project live performance at IU Cinema. On Friday, October 5, the Crossroads IUB Symposium will welcome local experts, researchers, and artists to learn best practices for art-science collaboration in environmental sustainability.
Learn more about Crossroads IUB and register for the two-day symposium at the Crossroads IUB official website. You can secure tickets for the Rising Tide: Crossroads Live Performance by clicking above on "Get tickets."
Crossroads IUB is presented by the Integrated Program in the Environment (IPE), Environmental Resilience Institute, Jacobs School of Music, Arts and Humanities Council, and IU Cinema. The event is made possible through a New Frontiers Grant from the IU Office of the Vice President for Research.
Series: Additional Films and Guests