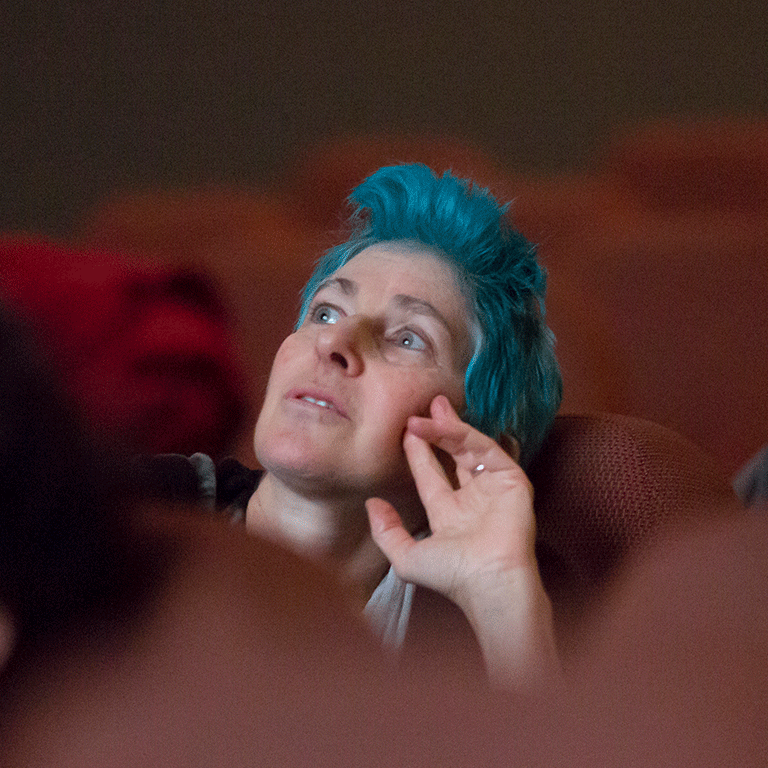 Beth B
Controversial and political in approach and content, these breakthrough films, such as Black Box, Vortex, and The Offenders, were shown at Max's Kansas City, CBGB's and the Film Forum. These and more recent films have also been shown at, and acquired by, the Whitney Museum and MoMA. Her early films, along with those of Jim Jarmusch and Amos Poe, are the focus of a new documentary, Blank City. Her films and artwork have been the subjects of several books and other documentaries, including The Cinema of Transgression; Art, Performance, Media; and No Wave: Underground 80. Beth B's career has been characterized by work that challenges society's conventions, and that focuses on recasting and redefining images of the female and male mind and body.
Her first 35mm film, Salvation! (1987), a sharp-edged social satire starring Viggo Mortensen and Exene Cervenka, prefigured pop culture's fascination with tele-evangelism. It premiered at the Berlin Film Festival and played theatrically worldwide. In 1988, her screenplay Life in Luxury was selected for the Sundance Screenwriter's Lab. Two Small Bodies (1994), based on Neal Bell's play and starring Fred Ward and Suzy Amis, was featured at the Locarno, Toronto and Sundance Film Festivals.
Beginning in 2001, Beth B began a new phase of her career, making television documentaries and docudramas, which she continues to do. Titles include Positive ID: The Case Files of Anthony Falsetti; Death of a Rising Star; Crimes Scenes Uncovered; and An Unlikely Terrorist.
Her films have been the subject of retrospectives at London's National Film Theater; the Montreal Film Festival; Lisbon's Nucleo Dos Cineastas Independentes; and the Danish Film Institute. She has also served on the competition juries at the Sundance and Toronto Film Festivals. Critics at the New York Times, Village Voice, and other outlets have praised her work as "compelling," "captivating," "extraordinary," "a tour de force," and have written that "her videos are haunting and her feature films brilliant."
Throughout her career, Beth B has continued to make interdisciplinary pieces involving painting, sculpture, photography and media installations. They have been shown at museums, galleries and public art spaces, including MoMA, the Whitney Biennial, the Tate Gallery, and PPOW Gallery. A series of photographic portraits of vaginas caused a sensation at Deitch Projects, and resulted in publication of a book of her photographs, titled Portraits. Hysteria, an exhibition of her work at the Hayward Gallery in London, dealt with censorship of female sexuality using a combination of video, sculptures and live performance.
In addition to her film and art productions, Beth B teaches fine arts at the School of Visual Arts in New York City.