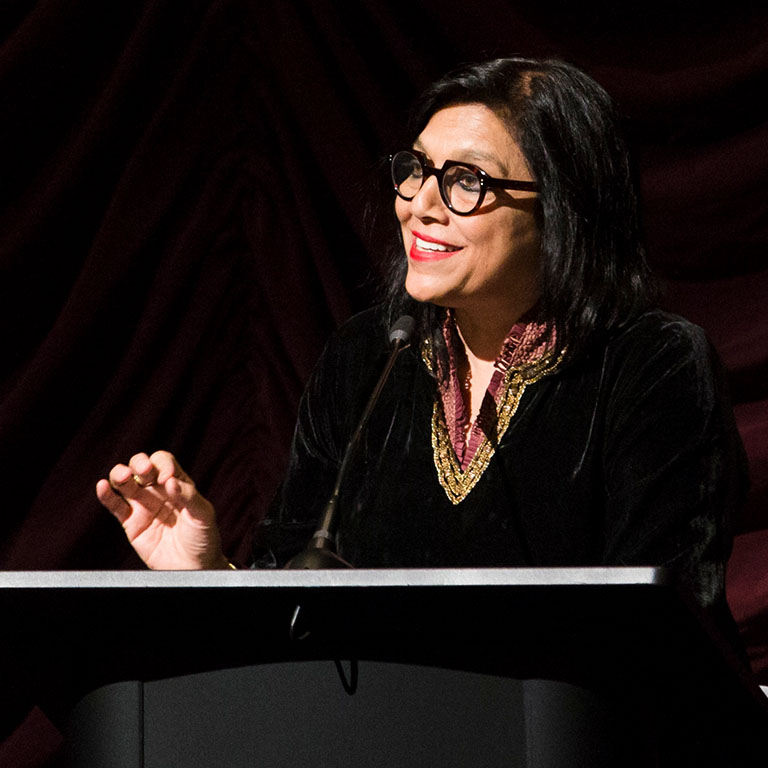 Mira Nair
Mira Nair is a filmmaker completely grounded within the world she lives. Her films often explore the conflicts inherent with families of recent immigration and ways to bridge the gap between cultures, races, and genders. They challenge stereotypes and generational assumptions, while remaining grounded in the values she holds close.
Born in India and educated at Delhi University and Harvard, her debut feature film, Salaam Bombay! (1988) was nominated for an Academy Award® for Best Foreign Language Film after winning the Camera D'Or at the Cannes Film Festival. Her next film, Mississippi Masala (1991), premiered at the Venice Film Festival. In 2001, Monsoon Wedding won the Golden Lion at the Venice Film Festival and went on to receive a Golden Globe® nomination for Best Foreign Language Film. With 12 feature films to her credit, her work continues to push boundaries and explore the human spirit.
Ever sensitive to social issues, Mira Nair shares her energies between filmmaking and the two non-profit organizations she founded. In 1988, with the proceeds from Salaam Bombay!, she established the Salaam Baalak Trust, which offers a safe and welcoming environment to thousands of street children every year. In 2005, Nair founded Maisha, a center in East Africa providing film labs and workshops for aspiring screenwriters, directors, actors, technicians, and documentary makers coming from Uganda, Tanzania, Kenya, and Rwanda.