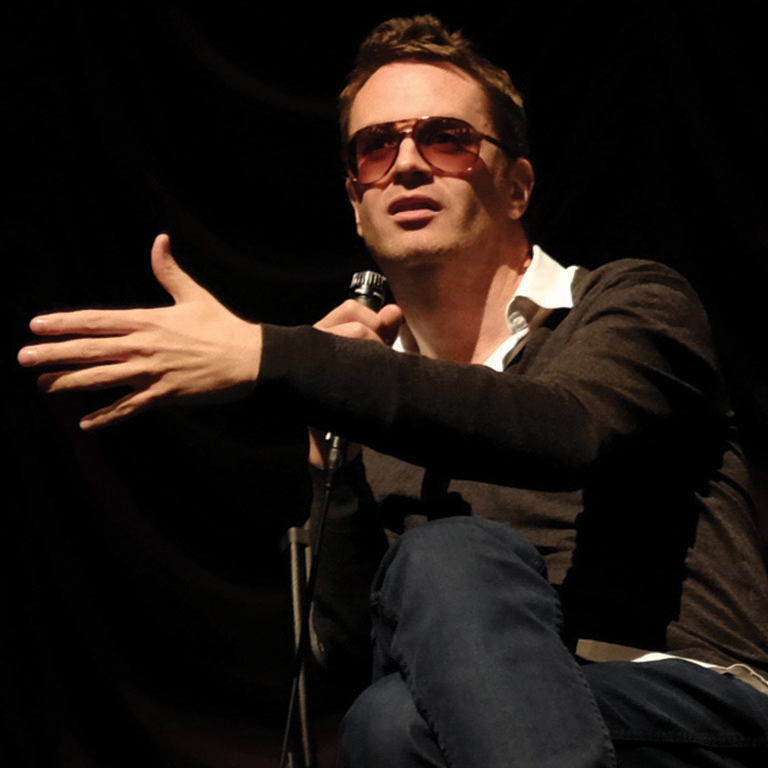 Nicolas Winding Refn
Nicolas Winding Refn was born in Copenhagen, Denmark, in 1970. He moved with his parents at the age of 10 to New York where he lived out his teenage years before returning to Copenhagen. Upon his graduation, Nicolas swiftly flew back to New York, where he attended the American Academy of Dramatic Arts. However, he was soon expelled for throwing a desk against a classroom wall. Consequently, he applied to the Danish Film School and was readily accepted. This education too was to be short-lived, as one month prior to the start of term, Nicolas dropped out.
After having a short film air on an obscure cable TV channel, Nicolas was spotted by a Danish producer who offered him 3.2 million kroners to turn the short into a feature. Aged only 24, Nicolas had written and directed the extremely violent and uncompromising Pusher (1996). Pusher became a cult phenomenon and won Nicolas instant international critical acclaim. The success of his debut spurred him to push the boundaries of his creative filmmaking further, resulting in the close-to-the-edge and intricately gritty Bleeder (1999). Highly stylized and focused on introverted reactions to outward situations, this film was a marking point for the shaping of Nicolas's future career. The movie was selected for the 1999 Venice International Film Festival as well as winning the prestigious FIPRESCI Prize in Sarajevo.
Nicolas's third feature, the much-anticipated FEAR X (2003) was also his first foray into English-language films. Starring the award-winning actor John Turturro, FEAR X received its world premiere at Sundance Film Festival delighting fans and critics alike.
Following the success of Fear X, Nicolas surprisingly decided to revisit Pusher due to the movie's growing cult following in both its homeland and abroad. In just two years he managed to write, direct and produce the two sequels. Pusher II (2004) and Pusher III (2005) sealed the box and success of the internationally renowned Pusher Trilogy. In 2005 Toronto Film Festival held a PUSHER retrospective showing all three features cementing its worldwide phenomenon.
In 2006 Nicolas embarked on a second English language feature called Valhalla Rising (2009), inspired by a story his mother read to him aged five about a father and son who embark on a trip to the moon. Not recalling the ending of this story has been a long time fascination with the unknown. During the pre-production on Valhalla Rising, his longtime collaborator and friend Rupert Preston urged him into accepting an offer to write and direct Bronson (2009), an ultra-violent, surreal, and escapist film following the real life landmarks and self-entrapment of Britain's most notorious criminal, Charles Bronson.
Nicolas and his wife Liv Corfixen were the subject of an acclaimed documentary Gambler which premiered at the Rotterdam International Film Festival in 2005. He has also received two lifetime achievement awards, one from Taipei International Film Festival in 2006 and the second from Valencia International Film Festival in 2007, also winning the Emerging Master award from the Philadelphia International Film Festival 2005.
In his homeland he is popularly known as the enfant terrible.