This screening includes
What a Way to Go!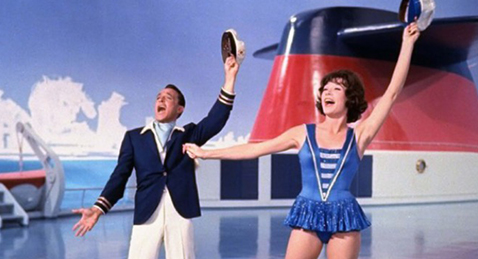 Date and time:

Sun, Oct 7, 2018,

From

1–2:51 pm

Runtime:

1 hr 51 min

Cost:

$4
Sunday Matinee Classics: Edith Head Designs
Edith Head is the most prolific and honored cinematic costume designer of all time. The films in this semester's Sunday Matinee Classics (formerly Monday Matinee Classics) series offer a brief introduction to Head's work by way of some of her most-lauded creations. Head defined the style of classic Hollywood through her work with Paramount Pictures from 1924 to 1967, and, as times changed and tastes shifted, so too did Head's stunning and inventive work. She left Paramount to work for Universal Pictures in 1967 and remained there until her death in 1981. Throughout her extensive career, Head dressed some of the most captivating movie stars to grace the silver screen, including Grace Kelly, Cary Grant, Lana Turner, Paul Newman, John Wayne, Steve McQueen, Elizabeth Taylor, and Marlene Dietrich. Ironically, her personal costuming was rather subdued in comparison to her film designs—she was known to wear only four colors: black, white, beige, and brown. Yet, Head's distinctive personal style—especially her signature eyeglasses—and forthright demeanor led to her being a recognizable personality on her own; she inspired the character of Edna Mode in The Incredibles. Head was nominated for 35 Academy Awards throughout her lifetime; with eight awards, she continues to hold the record for most Oscars won by a woman.
Series: Sunday Matinee Classics