Emerging Korean Storytellers: Bora Kim and KyungMook Kim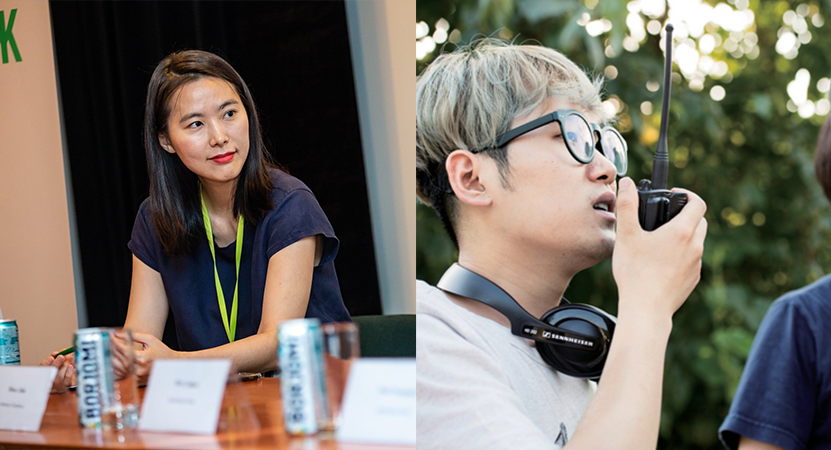 Bora Kim is a South Korean filmmaker who holds an MFA in film directing from Columbia University. Her recent short film, The Recorder Exam, won numerous awards, including the Best Student Filmmaker Award from the Directors Guild of America and was a National Finalist for the 2012 Student Academy Awards.
Kim's debut feature House of Hummingbird received production support from Korean Film Council, Seoul Film Commission, and the Asian Cinema Fund of Busan International Film Festival, along with post-production support from the Sundance Institute's Feature Film Program. After its premiere at Busan International Film Festival—where it won the NETPAC award and the KNN Audience award—House of Hummingbird went on to collect 35 awards from prestigious festivals including Berlinale, Tribeca Film Festival, BFI London Film Festival, Seattle International Film, Istanbul Film Festival, as well as Grand Prize for Best Narrative Feature at the Heartland Film Festival in Indianapolis.
Based in Seoul, KyungMook Kim's works explore the precarity of marginalized groups, such as those who identify as LGBTQIA+, sex workers, and North Korean defectors. Through his films, he has attempted to reveal the ambiguity between appearance and disappearance, visibility and invisibility, and presence and absence. He made his directorial debut at 19 with Me and Doll-playing (2004). Since then, he has made seven films, including the so-called Things Trilogy, which consists of Faceless Things (2005), Stateless Things (2011), and Futureless Things (2014).
His films have been selected for and received awards in numerous international film festivals, including the Venice Film Festival, International Film Festival Rotterdam, and BFI London Film Festival. Kim has also worked as a journalist and a columnist for a number of publications—serving on the editorial board of Korea's only independent film magazine, Independent Film, and as a committee member of the Association of Korean Independent Film and Video. In 2015, following his strong belief in pacifism, he was a conscientious objector against military conscription and was sentenced to 18 months in prison. Kim was paroled in 2016 after one year and three months of imprisonment.
Darcy Paquet, an IU alumnus with a master's degree in applied linguistics, is one of South Korea's most prominent film critics and the creator of the website koreanfilm.org. He moved to Korea in 1997 to teach English at Korea University but became fascinated with Korean cinema and made it his life's work. He also teaches classes on cinema at Kyung Hee University and Korea University and does freelance subtitle and screenplay translation, as well as radio and television work. In addition to his film criticism, Paquet has written extensively on the Korean film industry with pieces featured in Screen, Variety, and the Korean film weekly Cine 21.
Curated by Bora Kim and Brittany D. Friesner in collaboration with Seung-kyung Kim and John Finch of the Institute for Korean Studies, with support from IU Cinema and the Ove W Jorgensen Foundation.