This screening includes
Titicut Follies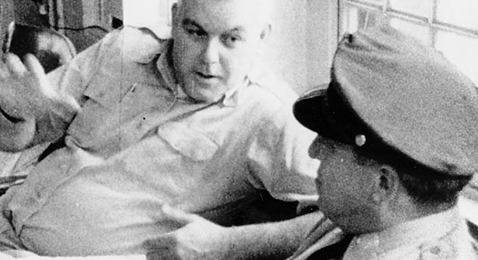 Date and time:

Tues, April 4, 2017,

From

7–8:24 pm

Runtime:

1 hr 24 min

Cost:

$3 all tickets.
The 2017 Filmmaker to Filmmaker: Conversations from the Director's Chair events will feature two highly respected and honored filmmakers, Frederick Wiseman and Robert Greene, both with new projects being released in 2017. The conversation will be a rare opportunity to hear Frederick Wiseman speak about his career and filmmaking process with another filmmaker.
This annual program pairs two complementary film directors on stage together, discussing their artistic vision, process, and bodies of work, surrounded by screenings of their films.
The program is endowed through a generous gift from Roberta and Jim Sherman, with an Indiana University Bicentennial Campaign match. Additional support for this visit comes from IU Libraries Moving Image Archive, The Media School, Center for Documentary Research and Practice, Cinema and Media Studies, and Indiana University Libraries.
Frederick Wiseman is a theatre and film director of 43 films, primarily focusing on American institutions. In 2016 he was awarded an Honorary Oscar from the Academy of Motion Picture Arts and Sciences Board of Directors. He is a MacArthur Fellow, a Fellow of the American Academy of Arts and Sciences, the recipient of a Guggenheim Fellowship, and an Honorary Member of the American Academy of Arts and Letters. He has won numerous awards, including four Emmys. In recent years, he directed Beckett's Happy Days and Vassili Grossman's The Last Letter at the Comédie Française in Paris, and The Last Letter at Theatre for a New Audience in New York. A ballet inspired by his first film, TITICUT FOLLIES (1967), premieres at the New York University Skirball Theater in 2017.
Robert Greene is a filmmaker and writer whose most recent film, Kate Plays Christine (2016) has won multiple awards, including a Jury Award for Writing at the 2016 Sundance Film Festival. Robert's previous critically acclaimed documentaries include the Gotham Awards-nominated Actress (2014), Fake It So Real (2011) and the Gotham Awards-nominated Kati With An I (2010). Robert was named among four filmmakers chosen as an inaugural Sundance Art of Nonfiction fellow in 2015. He's twice been nominated for a Cinema Eye Honors award for Outstanding Achievement in Direction. The Independent named Robert one of their 10 Filmmakers to Watch in 2014.
Series: Inspiring Conversations