Standby only
This screening includes
Jane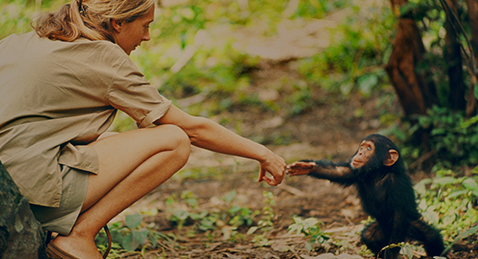 Date and time:

Mon, Sept 17, 2018,

From

7–8:30 pm

Runtime:

1 hr 30 min

Cost:

Free, but ticketed
Get tickets
All tickets have been distributed for this screening. IU Cinema will recognize a standby line at 6 pm on Monday, September 17, and seat patrons if space becomes available. Patrons with tickets must be seated by 6:55 pm to be guaranteed a seat.
Themester 2018: Animal/Human
This fall, the College of Arts and Sciences' Themester explores the theme "Animal/Human." Since prehistoric times, the lives of non-human animals have been interwoven with those of human animals. Philosophically, animals have frequently served as a counterpoint for thinking about what it means to be human. Animals have been used by humans for food and labor, for security and transportation, in scientific testing, and often, in ways that are not necessarily exclusive of the former, as helpers and companions of their human keepers.
At the same time, humans have become increasingly aware of our encroachments on non-human animals through urbanization, deforestation, and hunting, and of our role in the extinction or near-extinction of many species, as well as how animal agriculture contributes to global warming. This film series is part of a campus-wide exploration of the interconnectedness of animals and humans.
Series: Themester