This screening includes
L'equilibrio (Equilibrium)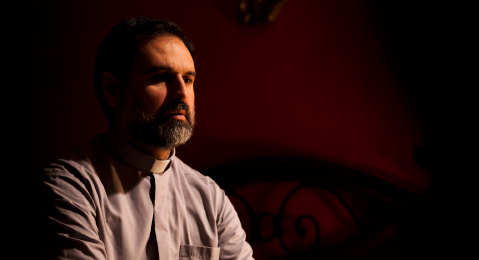 Date and time:

Sat, April 21, 2018,

From

7–8:30 pm

Runtime:

1 hr 30 min

Cost:

Free, but ticketed
Writer/Director Vincenzo Marra is scheduled to be present.
The Ninth Annual Film Symposium on New Trends in Modern and Contemporary Italian Cinema featuring the work of filmmaker Vincenzo Marra is presented by Indiana University's Department of French and Italian.
Vincenzo Marra
With six narrative features, five documentaries, and several short films, Vincenzo Marra is one of Italy's leading writer/directors. His narrative feature debut, Tornando a casa (Sailing Home) won the director several awards at international film festivals in 2001 and was nominated for Best First Feature at the Italian Golden Globes. His second feature, Vento di terra (Land Wind) won the FIPRESCI prize at the 2004 Venice Film Festival. The Rome International Film Festival honored his work by presenting a mid-career retrospective in 2013. His films often offer an extraordinary slice of life in the city of Naples, portraying the experiences of ordinary people poised between disillusion and hope.
This series is sponsored by the College of Arts and Sciences, the Department of French and Italian, Mary-Margaret Barr Koon Fund, Olga Ragusa Fund for the Study of Modern Italian Literature and Culture, College Arts and Humanities Institute, Provost Lauren Robel, Emeritus Professor Eduardo Lebano, and IU Cinema.
Series: International Art House Series, New Trends in Modern and Contemporary Italian Cinema