This screening includes
Henry Fool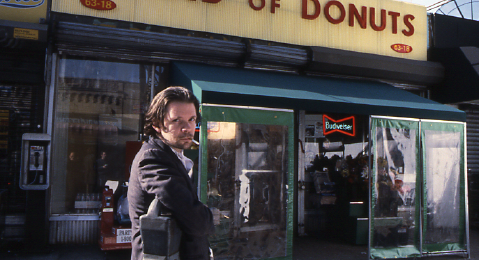 Date and time:

Sat, April 28, 2018,

From

7–9:17 pm

Runtime:

2 hr 17 min

Cost:

$4 all tickets.
Get tickets
The 2018 Filmmaker to Filmmaker: Conversations from the Director's Chair events will feature two honored independent filmmakers, Hal Hartley and Paul Shoulberg. The conversation will be a rare opportunity to hear Hartley speak in the Midwest with a filmmaker whose career and writing he has influenced, while celebrating the work of an emerging voice in independent film.
This annual program pairs two complementary film directors on stage together, discussing their artistic vision, process, and bodies of work, surrounded by screenings of their films.
The program is endowed through a generous gift from Roberta and Jim Sherman, with an Indiana University Bicentennial Campaign Match.
Hal Hartley studied filmmaking at the State University of New York at Purchase from 1980 to 1984, where he met many of his future collaborators like Edie Falco, Parker Posey, Karen Sillas, Robert John Burke, and Bill Sage.
He was born and raised in the working class suburb of Lindenhurst, Long Island, 33 miles from New York City. His father, uncles, and brothers were union structural steel ironworkers—setting the steel for many skyscrapers in Manhattan from the 1950s through the 1980s. Hartley paid for his college education largely working as an apprentice on some of these job sites during summer and winter breaks from college.
Graduating from SUNY Purchase in 1984, Hartley moved to New York City and found production assistant jobs on television commercials and films. By 1986, he became the all-around production assistant in the offices of Action Productions, a company owned and operated by Jerry Brownstein. During this time, Hartley wrote his first feature film screenplays and made a handful of short films. In 1988, Brownstein financed the production of Hartley's first feature film, The Unbelievable Truth. The success of this film provided the foundation for Hartley's own company, True Fiction Pictures, later Possible Films.
The 1990s were very busy and Hartley made many films before deciding to slow down in 1998 after completing Henry Fool (winner Best Screenplay, Cannes 1998). He turned his attention towards smaller, more experimental work such as The New Math(s) made for the BBC; Kimono, made for German television; and his play Soon, commissioned by the Salzburger Festpiele in Austria.
Hartley was made a Chevalier de l'Ordre des Arts et des lettres of the Republic of France in 1996. He taught filmmaking at Harvard University from 2001 through 2004. Having been awarded a fellowship by the American Academy in Berlin, Hartley arrived in that city in September 2004. In the years to follow, he shot the second film in his Henry Fool trilogy, Fay Grim (2006), in Berlin, Paris, and Istanbul. In 2009, Hartley returned to New York City and, in 2010, began work on Meanwhile, which was featured in the 2012 Viennale. Most recently, Hartley directed episodes of the Amazon series Red Oaks (2015–17).
Paul Shoulberg is a writer and director whose directorial debut, The Good Catholic, starring Danny Glover and John C. McGinley, won the Panavision Spirit Award for Independent Cinema at the 2017 Santa Barbara International Film Festival and Best Screenplay at the 2017 Milan International Film Festival.
Shoulberg also wrote the feature film Walter, starring Academy Award-nominated actors William H. Macy and Virginia Madsen, as well as Justin Kirk, Neve Campbell, and Jim Gaffigan. He is currently in post-production on his next film, Ms. White Light, starring Judith Light, John Ortiz, and Roberta Colindrez. In 2006, his play REEL won the Kennedy Center Mark Twain Prize for best student comedy.
Shoulberg is a 2007 graduate of the MFA playwriting program at Indiana University and earned his BA in Theatre and Film from the University of Kansas in 2004.
Series: Filmmaker to Filmmaker