World premiere
This screening includes
Dr. Jekyll and Mr. Hyde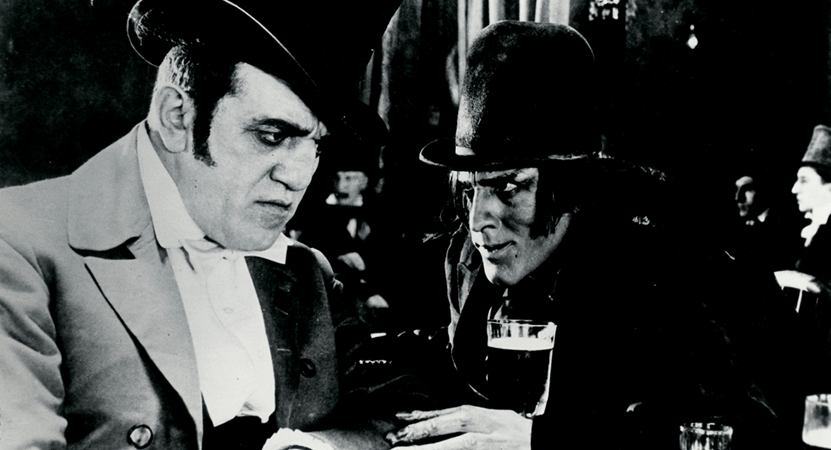 Date and time:

Sat, Feb 15, 2020,

From

7–8:19 pm

Runtime:

1 hr 19 min

Cost:

$8
Silent film with live orchestral accompaniment. 100th Anniversary Screening.
Dr. Jekyll and Mr. Hyde: Jon Vickers Scoring Award
World Premiere of a New Orchestral Score. The 2020 Jon Vickers Film Scoring Award was presented to Ryn Jorgensen in May 2019 as a commission to create an orchestral score for the 1920 film Dr. Jekyll and Mr. Hyde, starring John Barrymore. This annual award is endowed by a gift from former IU trustee, the Honorable P.A. Mack Jr. This premiere presentation includes IU students in the roles of composer, conductor, musicians, audio technicians, projectionist, house managers, and ushers.
Curated by Jon Vickers.
Ryn Jorgensen
Originally from Detroit, Mich., Ryn Jorgensen is a media- focused composer, orchestrator, editor, and copyist currently based out of Bloomington, Ind. They are a senior at the Jacobs School of Music, studying composition with a minor in Scoring for Film and Visual Media. They study with Larry Groupé and have worked with Yoav Goren and Jeff Fayman, Rick Marvin, Roger Neill, Lars Clutterham, and Steve Thomas.
Ryn's projects span many genres, from animated shorts with electronic scores to full-length silent films scored for live ensemble. Their most recent project was Black Boy Joy, a short film directed by Martina Lee, which premiered October 15, 2019, at the ArcLight Cinema in Hollywood. Past collaborations include an in-app video collaboration with the Library of Congress and a full-length television episode in collaboration with The Media School at IU. Ryn also writes concert music in a versatile style which encompasses standard big band works, avant-garde string quartets, pan-diatonic choral works, and more.
Series: Jon Vickers Scoring Award