World premiere, Virtual Event
This screening includes
Grass: A Nation's Battle for Life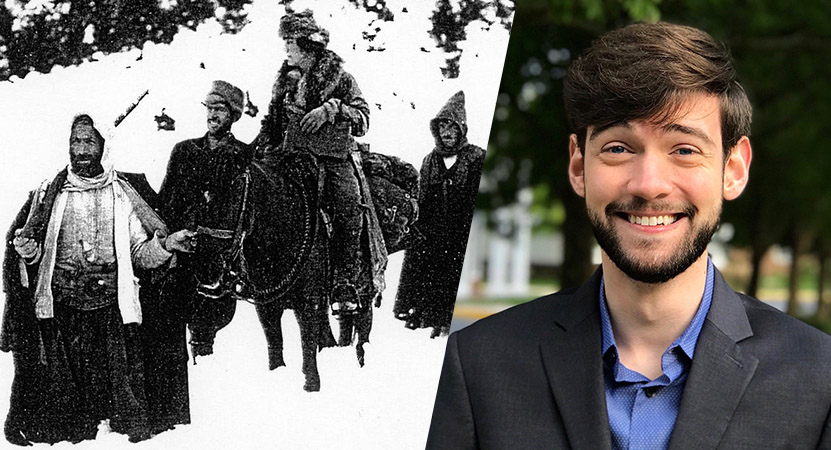 Date and time:

Sat, April 17, 2021,

From

7–8:11 pm

Runtime:

1 hr 11 min

Cost:

Free, no ticket required
Join us for a virtual film introduction and film screening as we present a world-premiere score for the 1925 film Grass: A Nation's Battle for Life.
Please note: this is a one-time only, live viewing event. You must be present at the beginning of the event to view it in its entirety.
We're working with our film distribution friends at Milestone Films to bring you the film Grass: A Nation's Battle for Life.
To participate in this virtual event:
Be sure you have downloaded Zoom software to the device you want to use to watch this event.
Register for the April 17 Zoom webinar to receive a link through which you will join the event at the date and time noted.
To watch the film, you must tune in to the live Zoom event. At the end of the film introduction, a slide will appear with instructions on how to watch the film, which will include a web address.
Please note: The film will not screen via Zoom. You will need to open a web browser, type in the web address, and press enter. The web address must be entered into your web address bar—it will not work if you type into a search engine bar. Once on the film's landing page, you will enter the password where it says "Enter password."
For more information on accessing IU Cinema virtual events, please visit our Virtual Cinema Frequently Asked Questions.
The 2021 Jon Vickers Film Scoring Award was presented to Patrick Holcomb in June 2019 as a commission to create an orchestral score for the 1925 film Grass: A Nation's Battle for Life. This annual award is endowed by a gift from former IU trustee, the Honorable P.A. Mack Jr. We have worked with Holcomb and Milestone to bring his score and the film to IU Cinema's Virtual Screening Room.
Curated by Jon Vickers.
Patrick Holcomb is a composer pursuing his master's degree in composition at the Indiana University Jacobs School of Music, where he studies with Claude Baker and serves as Assistant Director of the New Music Ensemble & Co-Coordinator of Music Composition. Holcomb also studied with Aaron Travers at Indiana University; with Evis Sammoutis, Jorge Villavicencio Grossmann, and Dana Wilson at Ithaca College, where he graduated top of his class in the School of Music with a B.M. in Composition with a minor in Anthropology in 2018; and with Mark Camphouse prior to beginning his higher education. His compositional honors include the 2019 Georgina Joshi Composition Commission Award, the 2018 Richard K. Joseph Composition Prize, first prize in the 2017 Mu Phi Epsilon Original Composition Contest Division I Class B, and first prize in the 2014 Neva Greenwood Memorial Student Composition Competition. Holcomb is also a two-time recipient of commissions from Connecticut Summerfest, for which he wrote pieces for Apple Orange Pair in 2017 and for Akropolis Reed Quintet in 2018. In the summer of 2019, Holcomb attended the Brevard Music Center Summer Institute and Festival as one of the Composition Teaching Assistants.
Series: IU Cinema Virtual Screening Room, Jon Vickers Scoring Award