Midwest Premiere
This screening includes
A Fool There Was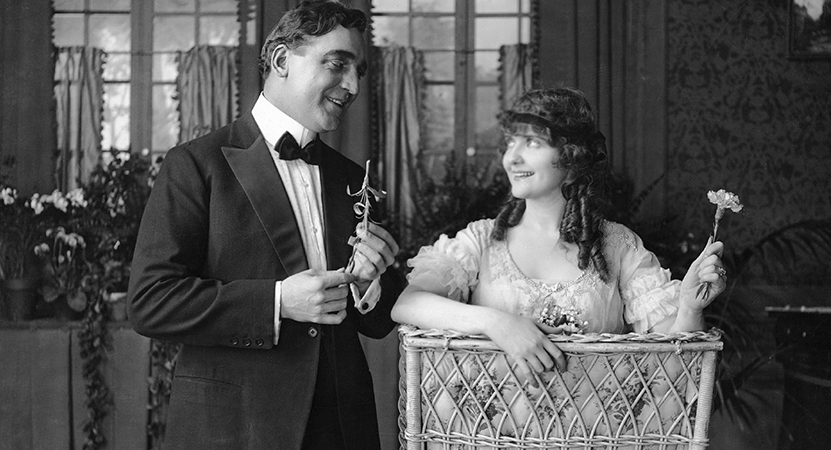 Date and time:

Fri, Nov 1, 2019,

From

7–8:18 pm

Runtime:

1 hr 18 min

Cost:

$8 single ticket or $40 festival pass
Get tickets
Silent film with orchestral accompaniment
The Days of Silent Cinema: Le Giornate del Cinema Muto at Indiana University
Founded in 1982, Le Giornate del Cinema Muto is considered the world's leading international silent-film festival, presented annually in the northern Italian town of Pordenone. Indiana University will be the host of an inaugural U.S. satellite festival, bringing U.S. premieres of some of the highlights from the October 2019 festival in Pordenone. Join IU Cinema, IU Libraries Moving Image Archive, and the Music Scoring for Visual Media program in the Jacobs School of Music for three days of rare and new restorations of silent films with live musical accompaniment. One $40 festival pass will gain entry for all screenings, or single tickets can be purchased for $8 per screening. Full festival schedule—which will include additional screenings, workshops, and lectures—will be posted closer to the festival.
This program is made possible thanks to the generous support of the Myerson Family Fund and the Office of the Bicentennial. Special thanks to Ed Myerson, Kaili Peng, and Kelly Kish.
Curated by Jay Weissberg, Rachael Stoeltje, Laura Horak, Maggie Hennefeld, and Jon Vickers.
Series: The Days of Silent Cinema: Le Giornate del Cinema Muto at Indiana University