Forever Queer: Community, Memory, Survival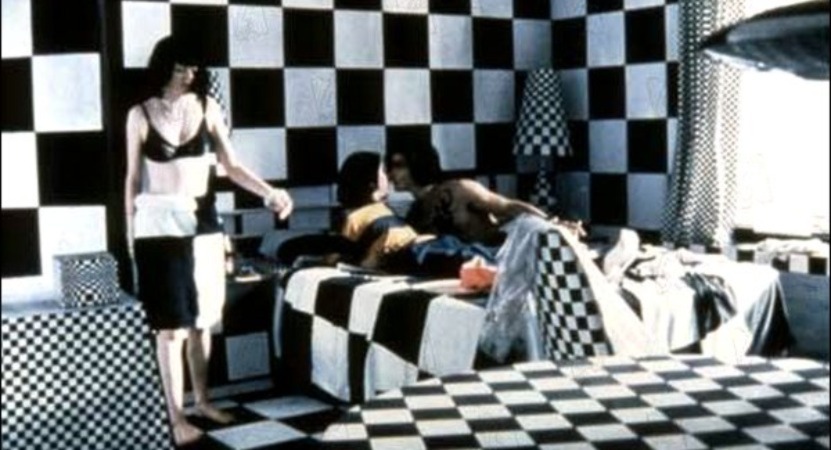 Forever Queer: Community, Memory, Survival is a semester-long program that highlights the endurance of queer film, media, and performance as a site of community construction, cultural memory, and survival. Combining film screenings, performances, workshops, and visits from industry professionals, Forever Queer aims to broaden the understanding of queer media culture while providing campus and the Bloomington community with unparalleled access to materials, ideas, and individuals otherwise not easily accessible.
CALENDAR OF EVENTS
February 23, 4pm at the Eskenazi Museum of Art; free, registration required | Camera Loosely: Maria Denolt Presents a History of Photography
From early experiments with light-sensitive chemistry to images from space telescopes, Denolt will introduce key moments in the development of photography and share tips for appreciating photographic works of art.
Maria Denolt is a fictional "art critic, lecturer, lofty person." An emanation from the sublime ether of the Muses, Maria appears before crowds in museums, galleries, and waffle restaurants to explain modern and contemporary art. Originally created by Dani Lamorte for a series of guerrilla performances at the Metropolitan Museum of Art, Maria Denolt mixes art history with speculative madness, inviting viewers to engage with works of art using their own life experiences and cultural references.
February 24, 4pm at the Bryan Room, Indiana Memorial Union; free, no ticket required | The Gluttony of Light with Dani Lamorte
The Gluttony of Light will survey sources of light that have long fixated artist Dani Lamorte: the glare of a sequin, the burn of a projector, the shine of a leaf, the fade of a photograph. Drawing on Lamorte's forthcoming collection of essays, The Gluttony of Light tracks these brilliances as they refract through queerness, plants, photography, forgetting, and the rural landscapes of northernmost Appalachia.
Dani Lamorte is a Pittsburgh-based artist working in performance, video, photography, and text. Dani's first collection of essays, Nothing to See, is forthcoming from the University of Kentucky Press.
February 24, 7pm at IU Cinema, $5 | Queer Time, Queer Space: Jubilee + New Queer Shorts
This program highlights the filmic work that came before and after the New Queer Cinema movement of the 1990s, focusing on current shortform work from contemporary queer voices and a feature from a stalwart of early queer filmmaking, all of whom experiment with film genre, form, and aesthetics.
March 23, 4pm at IU Cinema, free but ticketed | Elements Anthology screening + filmmaker talk
IU alum, Hoosier, and filmmaker Matthew Riutta returns to Bloomington to share his short film anthology series Elements, which follows four different Bay Area residents and their intersecting lives on the same day.
Matthew Riutta is an award-winning filmmaker, working in the San Francisco Bay Area's film and television community for the past 20 years. He has written, directed, and produced several award-winning short films and is also an in-demand location manager.
March 23, 7pm at IU Cinema, $5 | Totally F***ed Up 30th anniversary screening + Q&A with filmmaker Matthew Riutta
Totally F***ed Up (Gregg Araki, 1993, 78 min): The film that launched the director onto the scene as a major voice in the New Queer Cinema movement, it chronicles the lives of six gay teenagers living as a chosen family. It's queer avant garde meets John Hughes. Featuring a virtual introduction by queer film scholar Dr. Arnau Roig-Mora (Universitat Pompeu Fabra, Barcelona, Spain).
March 24, 7pm at IU Cinema, $5 | Diva Worship: Trevor, Flaming Creatures, Mala Mala
Divas hold an exalted place in queer communities as both entertainers and for queer identity creation. This program celebrates and explores those roles with three films where divas are ciphers of queer storytelling and subjectivity.
March 24, 10pm at the Back Door, free | Diva Legends Dance Party
Join IU Cinema after the Diva Legends screening for a dance party celebrating divas past, present, and future. Held at the Back Door, Bloomington's only dedicated LGBTQIA+ club space. 21+ only.
March 29, 4pm at the Wells Screening Room, IU Libraries Moving Image Archive; free, no ticket required | Performing Memory Through the Archive talk + film screening with Johanna Tesfaye
Building off the cosmos of academic and creative work of queer Black filmmakers, artists, and scholars, this talk will outline memory performance to re-establish the temporal body. This talk will include a screening of How Those Who Were Sent Away Wept and Made a Plan, a short experimental film utilizing research, historical artifacts, and performance.
Johanna Tesfaye is an artist, researcher, and therapist. Her creative and academic work utilizes film, sound media, art exhibition work, historical documents, and fiction/non-fiction text to synthesize historical narratives focused on Black temporal realities that interrogate the archive, re-imagining and documenting a cosmos of work, thought, and life in pursuit of alterity.
April 19, 4pm, location TBA; free, no ticket required | Do It In the Dark! with Harrison Apple
Harrison Apple from the Pittsburgh Queer History Project comes to Indiana University to share their work as an after-hours nightclub archivist and oral historian.
Harrison Apple, PhD (they/them/theirs) is the founding co-director of the Pittsburgh Queer History Project as well as the Associate Director of the Frank-Ratchye STUDIO for Creative Inquiry at Carnegie Mellon University. Their research focuses on intersecting forces of identity and community formation among primarily working-class people in Pittsburgh between the 1950s and 1990s. Specifically, Apple became a community archivist to an evolving social world that began in gay after-hours discos disguised as social clubs.
Complimentary Programming
IU Cinema has several other film screenings this semester that, while not explicitly part of Forever Queer, offer content, themes, and ideas that speak directly to the series.
Forever Queer is supported in part by IU's Queer Philanthropy Circle, the Kinsey Institute, IU Queer Student Union, the LGBTQ+ Culture Center, the Black Film Center & Archive, and The Media School.