This screening includes
Le Samouraï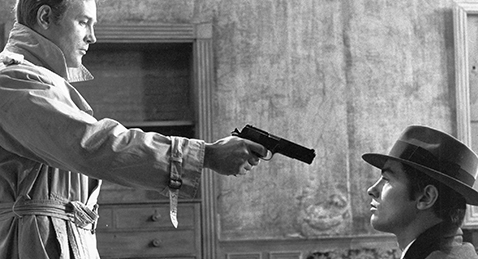 Date and time:

Thurs, Sept 14, 2017,

From

7–8:41 pm

Runtime:

1 hr 41 min

Cost:

$4 all tickets.
Get tickets
5X Jean-Pierre Melville: Dangerously Cool
When asked, "What is your greatest ambition in life?" Jean-Pierre Melville replied, "To become immortal … and then die." Since opening in January 2011, IU Cinema has hosted dozens of eminent and celebrated filmmakers. But many seminal titans of the moving picture are no longer with us. In celebration of the centennial of Melville's birth, IU Cinema introduces a new regular film series titled 5X, aimed at offering a peek into the canon of the celluloid legends who may not be able to join us in person, but whose influence is felt every time our screen lights up.
In this inaugural 5X series, we present five of Jean-Pierre Melville's 13 feature films, from the 'godfather' of the French New Wave. Born Jean-Pierre Grumbach—later borrowing his surname from author Herman Melville—he was given his first 9.5mm movie camera at six years of age, graduating to 16mm by the age of 12. Like the New Wave directors who considered him a mentor, his film education came from devouring cinema as a moviegoer, preferably Hollywood films. Though he loved the classical studio directors like William Wyler and John Huston, Melville worked independently, even building his own studio. Mostly remembered for his intense, spare, 1960s gangster films, Jean-Pierre Melville had a startlingly varied career as a maverick of French independent cinema. "I don't know what will be left of me 50 years from now. I suspect that all films will have aged terribly and that the cinema probably won't even exist anymore." We don't think so!
Series: 5X Series