This screening includes
Ali: Fear Eats the Soul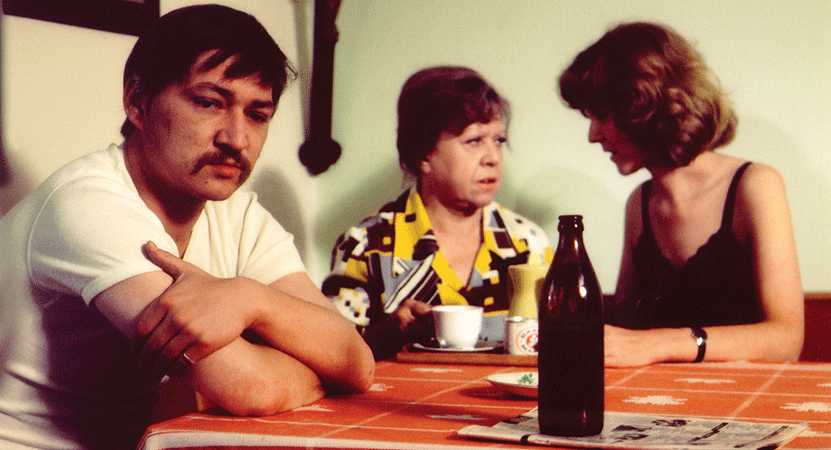 Date and time:

Thurs, Feb 14, 2019,

From

7–8:32 pm

Runtime:

1 hr 32 min

Cost:

$4
5X Rainer Werner Fassbinder: New German Cinema's Subversive Social Critic
Considered the heart of the New German Cinema, Rainer Werner Fassbinder burned bright before dying in 1982 of heart failure at the age of 37. In the span of only 16 years of seemingly boundless creative energy, he directed 41 feature-length film and television productions (on several of which he also acted as writer, producer, and editor); wrote, directed, and produced stage and radio plays; and acted in more than 30 projects of other directors. Presented here are five films to introduce or reacquaint viewers to his work.
Stating that "the cinema was the family life I never had at home," Fassbinder spent much of his childhood in theaters consuming movies, favoring the Hollywood films of the 1950s filled with anxiety, paranoia, and familial fractures. He would pay homage to these films and filmmakers, like Douglas Sirk, throughout his work, honing his own trademark of mixing social criticism and melodrama. His formal aesthetic, however, came from his formative years in theater. Upon rejection to the Berlin Film School, Fassbinder joined the Action Theatre (or Anti-Theatre) in 1967, where he learned to act and direct and met a close group of young professionals who would become his stock company of cinematic actors. He also learned to manage every phase of production, empowering an inconceivable amount of creative output, including his first feature film in 1969.
His films are radical, subversive, and often as provocative as his decadent lifestyle, while also being highly intelligent, sensitive, and intensely critical of social institutions. Decades later, the works still affect audiences, addressing relevant social issues of racism, class divide, terrorism, state violence, and sexual politics. Though his premature death marked the end of New German Cinema, it paved the way for all the filmmakers he would later influence.
Series: 5X Series