Virtual Event
This screening includes
Celebrating 10 Years of Transformative Cinematic Experiences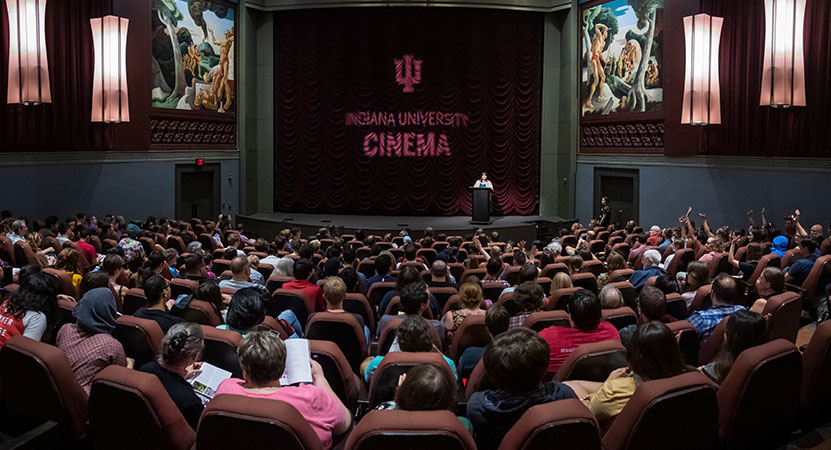 Date and time:

Wed, Jan 13, 2021,

From

7–8:15 pm

Runtime:

1 hr 15 min

Cost:

Free, no ticket required
Join us for a virtual conversation and film screening to celebrate IU Cinema's 10th anniversary.
To participate in this virtual event:
Be sure you have downloaded Zoom software to the device you want to use to watch this event.
Register for the January 13 Zoom webinar to receive a link through which you will join the event at the date and time noted.
To watch the film, you must tune in to the live Zoom event. At the end of the film introduction, a slide will appear with instructions on how to watch the film, which will include a web address as well as a password.
Please note: The film will not screen via Zoom. You will need to open a web browser and enter the password provided to watch the film.
For more information on accessing IU Cinema virtual events, please visit our Virtual Cinema Frequently Asked Questions.
IU Cinema staff members participating include:
Kyle Calvert, Design and Marketing Manager
David Carter, Podcast Producer and Co-Host, Blog Contributor
Ava Clouden, House Manager
Mary Figueroa, Graduate Assistant Projectionist
Brittany D. Friesner, Interim Director
B. Elena Grassia, Technical Director
David Kortes, Events and Operations Assistant
Seth Mutchler, Technical Coordinator
Michaela Owens, Publications Editor
Elizabeth Roell, Podcast Co-Host and Lead House Manager
Jessica Davis Tagg, Events and Operations Director
Jon Vickers, Founding Director (emeritus)
Series: 10 Years. 10 Films. 10 Perspectives., IU Cinema 101: Get to Know Your Place for Film, IU Cinema Virtual Screening Room