Virtual Event
This screening includes
Je m'appelle humain (Call Me Human)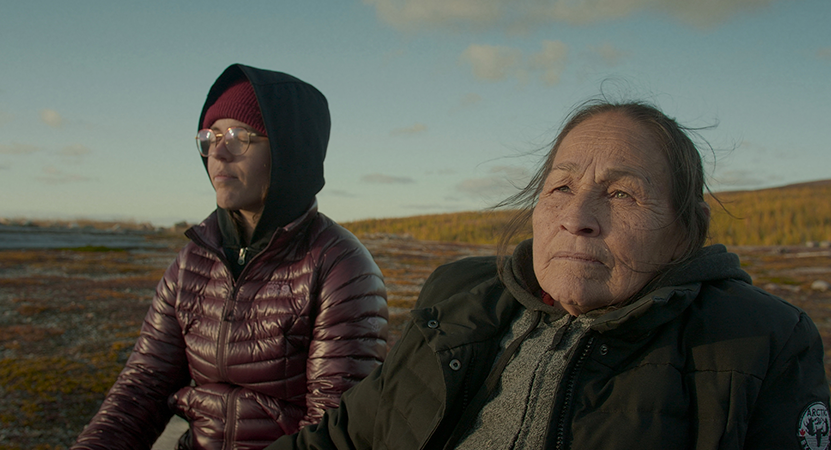 Date and time:

Thurs, Dec 2, 2021,

From

7–8:18 pm

Runtime:

1 hr 18 min

Cost:

Free, no ticket required
Join us for a virtual film introduction and film screening with Paul Caesar-Jules/Dūłą̄́ dene k'éh eszī gūlīn and Emeral Poppe/Dogālé, language learners, teachers, and revitalizers from the Liard First Nation Language Department.
We're working with our film distribution friends at Terre Innue to bring you the film Call Me Human. A limited number of complimentary passes will be available to watch the film on a first-come-first-served basis.
To participate in this virtual event:
Be sure you have downloaded Zoom software to the device you want to use to watch this event.
Register for the December 2 Zoom webinar to receive a link through which you will join the event at the date and time noted.
To watch the film, you must tune in to the live Zoom event. At the end of the film introduction, a slide will appear with instructions on how to watch the film, which will include a web address as well as a password.
Please note: The film will not screen via Zoom. You will need to open a web browser, type in the web address, and press enter. The web address must be entered into your web address bar—it will not work if you type into a search engine bar. Once on the film's landing page, you will enter the password where it says "Enter password."
For more information on accessing IU Cinema virtual events, please visit our Virtual Cinema Frequently Asked Questions.
Themester 2021: Resilience
This fall, the College of Arts and Sciences' Themester explores the theme of "resilience." Impacted by existential challenges such as the current global pandemic, climate change, and increasingly intense and more frequent natural disasters, the foundations of human and ecological communities are vulnerable. How can humans and other species survive and thrive? This Themester 2021 engages in a discussion of these disturbances and the responses to them. This partnership is supported through IU Cinema's Creative Collaborations program.
Curated by the Themester: Resilience faculty and student committee in the College of Arts and Sciences, with support from IU Cinema. The screening is sponsored by the College of Arts and Sciences and IU Cinema.