Virtual Event
This screening includes
The Return of Draw Egan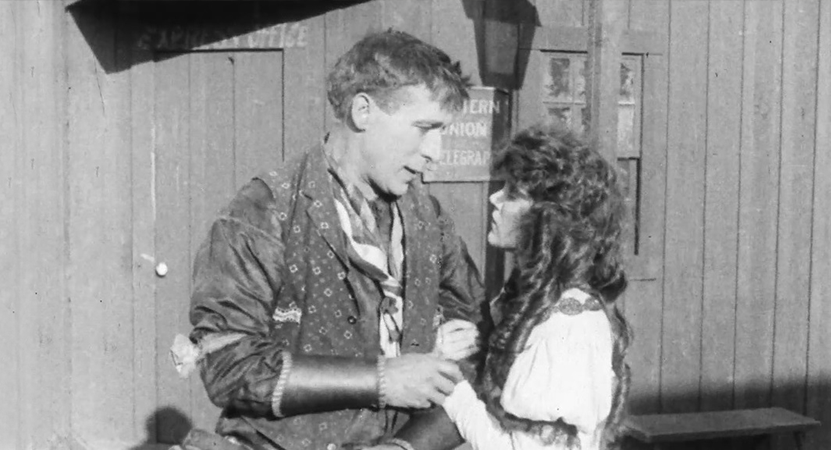 Date and time:

Thurs, May 21, 2020,

From

6:55–7:51 pm

Runtime:

56 min

Cost:

Free, no ticket required
IU Cinema Assistant Director of Events, Facilities, and Guest Services Jessica Davis Tagg and composer Ari Fisher will give a virtual film introduction at 7 pm EST. Following the film, IU Jacobs School of Music Associate Professor Larry Groupé will join the conversation for a virtual Q&A at approximately 8:10 pm EST.
Visit the IU Cinema YouTube channel to watch the introduction and interactive conversation with IU Cinema Assistant Director of Events, Facilities, and Guest Services Jessica Davis Tagg and composer Ari Fisher ,and IU Jacobs School of Music Associate Professor Larry Groupé from this screening of The Return of Draw Egan.
In 2016, IU Cinema premiered a new orchestral score it commissioned from composer Ari Fisher for the film The Return of Draw Egan. The score was the inaugural event for the Jon Vickers Film Scoring Award, endowed by the Honorable P.A. Mack. We have worked with Fisher to bring his score and the film The Return of Draw Egan to IU Cinema's Virtual Screening Room. You will be able to stream the film from this link to the device of your choosing for free from 7 pm EST on May 21 through May 24. Special thanks to Ari Fisher.
Ari Barack Fisher has won numerous film-scoring competitions and collaborated on a variety of projects ranging from feature-length films to video-game soundtracks. In 2011, Fisher won a commission to score the 1922 silent-film version of David Copperfield for Indiana University Cinema and, in 2015, he received the inaugural Jon Vickers Film Scoring Award for his score to the 1916 silent film The Return of Draw Egan by William S. Hart. In 2019, Fisher's score to the Hart film had its European premiere in Italy as part of the Pordenone Silent Film Festival. He received his bachelor's and master's degrees from the Jacobs School of Music. His teachers and mentors have included Claude Baker, Sven-David Sandstrom, Aaron Travers, Don Freund, Narcis Bonet, Philip Lasser, Larry Groupé, and Richard Marvin. In addition, he completed the Certificate Program at the Nadia Boulanger Institute in Paris, and his music has been used across the nation in television ads. His concert works have been performed in Norway, Belgium, France, Italy, Austria, South Korea, Taiwan, and across the United States. Fisher currently resides in Los Angeles.
Larry Groupé is a composition professor at the Jacobs School of Music and the founder of the school's first film-scoring program. With an impressive musical résumé in film, television, and the concert stage, Groupé has received both critical praise and popular acclaim. He has just finished his latest score for long-time collaborator, Rod Lurie, who directed The Outpost (2020) starring Orlando Bloom, Scott Eastwood, and Caleb Landry Jones. Larry also composed and co-wrote the end-credit song for the film, performed by Rita Wilson. Additional collaborations with writer-director Rod Lurie include the critically acclaimed score for Straw Dogs (2011), starring James Marsden, Kate Bosworth and Alexander Skarsgård; Nothing but the Truth (2008),starring Kate Beckinsale, Matt Dillon, and Alan Alda; and Resurrecting the Champ (2007), starring Samuel L. Jackson and Josh Hartnett.
Jessica Davis Tagg, the assistant director of events, facilities, and guest services at Indiana University Cinema, has more than a decade of arts-administration experience, having worked with groups such as the Illinois Symphony Orchestra, the Hot Springs Music Festival, and the Tanglewood Festival. Her work at IU Cinema includes event planning and implementation, volunteer management, coordination with programming partners, and management of the IU Cinema venue. In this capacity, she was invited to present at the 2019 Art House Convergence international conference to share the IU Cinema system and practice adjustments that led to a 200% growth of its volunteer program over four years. Tagg earned bachelor's and master's degrees in violin performance from the University of Georgia and Louisiana State University, respectively, and later studied musicology at the University of Illinois at Urbana-Champaign. She most recently served as the executive director of the Tuscaloosa Symphony Orchestra before moving to Bloomington. Much of Tagg's career has focused on developing and implementing ways to help people deeply understand and enjoy the arts via arts talks, development, and community outreach.
Series: IU Cinema Virtual Screening Room, Jon Vickers Scoring Award