Cancelled
This screening includes
Zama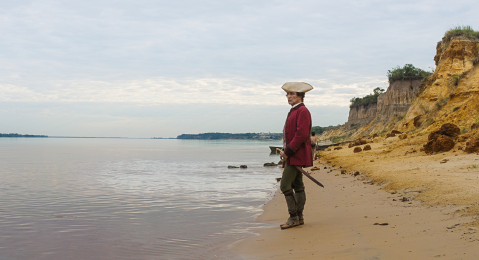 Date and time:

Sat, April 13, 2019,

From

4–5:55 pm

Runtime:

1 hr 55 min

Cost:

Free, but ticketed
Regrettably, Lucrecia Martel has postponed her trip to Indiana on April 12 and 13 due to unforeseen circumstances regarding her filming and rehearsal schedule.
Lucrecia is collaborating with musical artist Björk on a live-performance project, which will premiere at the NYC venue The Shed this spring.
Her visit was to include several events at IU Cinema as part of the Filmmaker to Filmmaker: Conversation's From the Director's Chair: Alejandra Márquez Abella and Lucrecia Martel series. Lucrecia is incredibly disappointed to miss this chance to meet Bloomington fans and to engage with IU students, faculty, and staff. We are working with Lucrecia to reschedule her visit to IU Cinema for September 2019 and will post updates to social media and our website.
Fortunately, filmmaker Alejandra Márquez Abella has confirmed she is still planning to visit IU on April 11 and 12. She will participate in two film screenings and one on-stage conversation.
The following events have been cancelled: Años luz (Light Years) (April 10, 7 pm, at IU Libraries Moving Image Archive); La Ciénaga (The Swamp) (April 12, 10 pm); Zama (April 13, 4 pm); La niña santa (The Holy Girl) (April 13, 7 pm).
The following events will continue as scheduled: Semana Santa (March 31, 1 pm); Las niñas bien (The Good Girls) (April 11, 7 pm); La mujer sin cabeza (The Headless Woman) (April 11, 10 pm); Alejandra Márquez Abella on-stage conversation (April 12, 7 pm).
Filmmaker to Filmmaker: Alejandra Márquez Abella and Lucrecia Martel
The Filmmaker to Filmmaker: Conversations from the Director's Chair annual program pairs two complementary film directors on stage together, discussing their artistic vision, process, and bodies of work, surrounded by screenings of their films. This year's program pairs two visionary filmmakers who each have new films in 2018, Alejandra Márquez Abella and Lucrecia Martel.
Alejandra Márquez Abella is a writer/director who was born in San Luis Potosí, Mexico, and studied filmmaking at Centre d'Estudis Cinematogràfics de Catalunya in Barcelona. She is currently based in Mexico City and works in film and television. Her first two feature films, Semana Santa (2015) and The Good Girls (2018), both premiered at the Toronto International Film Festival.
Born in Argentina, Lucrecia Martel is considered a master filmmaker in the international film community. Her four feature films have premiered at the world's top film festivals—Cannes, Berlin, Venice, Toronto, New York, Sundance, and Rotterdam—and retrospectives of her work have been widely exhibited. Martel has served on official film juries and taught masterclasses around the world. Filmmaker Pedro Almodóvar said of her work, "When you discover an auteur so original, mature, and elusive as Lucrecia Martel, you feel as if you're witnessing a miracle."
The program is endowed through a gift from Roberta and Jim Sherman, with an Indiana University Bicentennial Campaign Match. This program is additionally supported by the IU Arts and Humanities Council and Mexico Remixed.
Series: Inspiring Conversations