Virtual Event
This screening includes
Dr. Jekyll and Mr. Hyde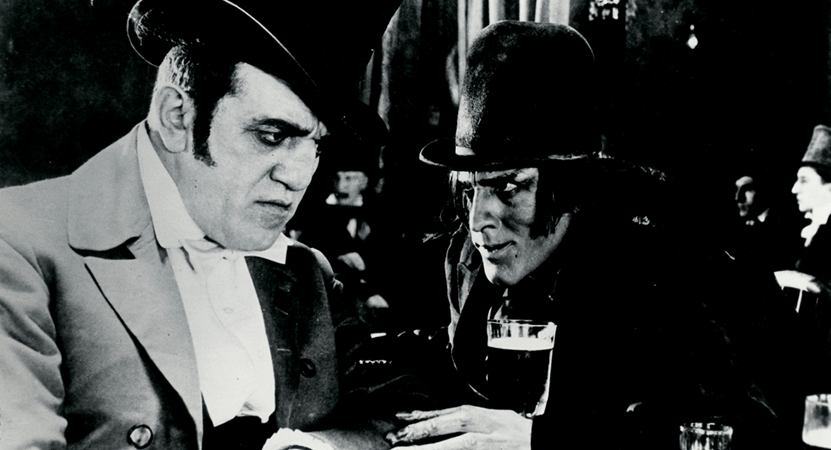 Date and time:

Fri, Nov 6, 2020,

From

7–8:19 pm

Runtime:

1 hr 19 min

Cost:

Free, no ticket required
Composer Ryn Jorgensen, Scoring Engineer Carl Newmark, and IU Jacobs School of Music Associate Professor Larry Groupé are scheduled to be present for a virtual conversation and interactive Q&A moderated by IU Cinema Events and Operations Director Jessica Davis Tagg.
Earlier this year, IU Cinema premiered a new orchestral score from composer Ryn Jorgensen for the 1920 film Dr. Jekyll and Mr. Hyde. The score was commissioned for the Jon Vickers Film Scoring Award, endowed by the Honorable P.A. Mack Jr. We have worked with Jorgensen and Kino Lorber to bring their score and the film to IU Cinema's Virtual Screening Room. The original score had its world premiere at IU Cinema in February 2020.
Join us for a virtual film introduction, film screening, and interactive Q&A with composer Ryn Jorgensen, Scoring Engineer Carl Newmark, and IU Jacobs School of Music Associate Professor Larry Groupé. Be sure to download the free online meeting platform Zoom to your computer or phone to be able to access this virtual event and sign up to join the November 6 Zoom event via this link.
You will be able to stream the film at no charge Nov. 6–8 to the device of your choosing. Only those registered for the Zoom event will have access to the film.
Ryn Jorgensen
Originally from Detroit, Mich., Ryn Jorgensen is a media- focused composer, orchestrator, editor, and copyist currently pursuing a masters degree through the Berklee College of Music in Valencia, Spain. They graduated from the Jacobs School of Music, studying composition with a minor in Scoring for Film and Visual Media with Larry Groupé and have worked with Yoav Goren and Jeff Fayman, Rick Marvin, Roger Neill, Lars Clutterham, and Steve Thomas. Ryn's projects span many genres, from animated shorts with electronic scores to full-length silent films scored for live ensemble. Their most recent project was Black Boy Joy, a short film directed by Martina Lee, which premiered October 15, 2019, at the ArcLight Cinema in Hollywood. Past collaborations include an in-app video collaboration with the Library of Congress and a full-length television episode in collaboration with The Media School at IU. Ryn also writes concert music in a versatile style which encompasses standard big band works, avant-garde string quartets, pan-diatonic choral works, and more.
Larry Groupé is a composition professor at the Jacobs School of Music and the founder of the school's first film-scoring program. With an impressive musical résumé in film, television, and the concert stage, Groupé has received both critical praise and popular acclaim. He has just finished his latest score for long-time collaborator Rod Lurie, who directed The Outpost (2020) starring Orlando Bloom, Scott Eastwood, and Caleb Landry Jones. Groupé also composed and co-wrote the end-credit song for the film, performed by Rita Wilson. Additional collaborations with writer-director Rod Lurie include the critically acclaimed score for Straw Dogs (2011), starring James Marsden, Kate Bosworth, and Alexander Skarsgård; Nothing but the Truth (2008), starring Kate Beckinsale, Matt Dillon, and Alan Alda; and Resurrecting the Champ (2007), starring Samuel L. Jackson and Josh Hartnett.
Carl Newmark
A recent graduate from the Audio Engineering and Sound Production program at the Jacobs School of Music, Carl has left his midwestern roots and is currently based out of Los Angeles, pursuing a career in music production. He has led or contributed to well over a hundred recording projects including pop/rock albums, operas, big band jazz, orchestral, and experimental music that have appeared on both PBS and BBC broadcasts. Previously, Carl assisted on the session for the 2019 Jon Vickers Scoring Award film The Strong Man. In Los Angeles, Carl looks to continue working as an engineer with the film and music industries.
Jessica Davis Tagg, the events and operations director at Indiana University Cinema, has more than a decade of arts-administration experience, having worked with groups such as the Illinois Symphony Orchestra, the Hot Springs Music Festival, and the Tanglewood Festival. Her work at IU Cinema includes event planning and implementation, volunteer management, coordination with programming partners, and management of the IU Cinema venue. In this capacity, she was invited to present at the 2019 Art House Convergence international conference to share the IU Cinema system and practice adjustments that led to a 200% growth of its volunteer program over four years. Tagg earned bachelor's and master's degrees in violin performance from the University of Georgia and Louisiana State University, respectively, and later studied musicology at the University of Illinois at Urbana-Champaign. She most recently served as the executive director of the Tuscaloosa Symphony Orchestra before moving to Bloomington. Much of Tagg's career has focused on developing and implementing ways to help people deeply understand and enjoy the arts via arts talks, development, and community outreach.
Series: IU Cinema Virtual Screening Room, Jon Vickers Scoring Award